Programs
The Sunrise Project supports multiple programs that change the world.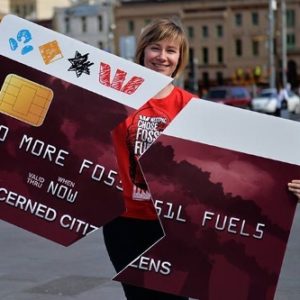 Shifting Global Finance
Financiers like banks, asset managers, and insurers hold tremendous influence over what gets built and produced what business plans go ahead, and the lobbying groups actively obstructing climate progress. Thanks to pressure from the finance savvy corners of the climate movement, global finance institutions are waking up to their power, and some are seizing the responsibility. But we still have a long way to go, and time is short.
Learn more about our Global Finance Program
Australia Beyond Coal and Gas
Burning coal is the biggest single cause of global warming. Australia is the largest exporter of coal and our electricity sector is one of the dirtiest and most coal dependent in the world. We recently replaced Qatar as the largest gas (LNG) exporter in the world. Australia now sits only behind Russia and Saudi Arabia as the third largest exporter of fossil fuels in world. 
Meanwhile, we continue to squander our natural advantage in renewable energy and are failing to support local communities to plan for the inevitable transition beyond coal and gas. Australia is one of the sunniest and windiest countries in the world. Phasing out coal plants and repowering Australia with 100% renewable energy is not only possible, it is cheaper and easier than we are led to believe. 
Learn more about our Beyond Coal and Gas Program
Protecting Australian Ecosystems
The Great Barrier Reef is one of the most remarkable ecosystems on Earth. But this natural treasure is a canary in the coal mine in terms of climate change impacts. 2016 and 2017 saw unprecedented back-to-back coral bleaching events with impacts stretching over 1500km – two-thirds of the length of the Reef. It is estimated that half of the shallow water corals in the Reef are now dead.
Learn more about our Australian Ecosystems Program