About
We support networks of organisations to work together to achieve outcomes that would not be possible by individual organisations acting alone.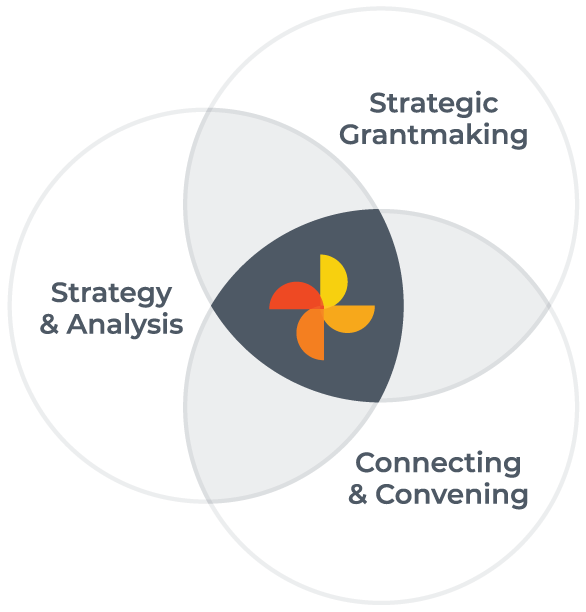 We are facing a climate and extinction crisis that has many drivers. The climate crisis is caused by digging up and burning fossil fuels (coal, oil and gas) and cutting down too many trees. Technical solutions are readily available but the challenge is in transforming the complex economic, social and political dynamics that maintain the status quo, perpetuate injustice and inequality, and get in the way of the change we so urgently need.
Throughout history, social movements – networks of people, organisations and institutions acting together towards a common goal – have changed the way we live for the better. Aboriginal and Torres Strait Islanders campaigned for and won the right to vote, suffragettes won women's right to vote, unionists won the 8-hour work day and workplace safety laws, African Americans won an end to segregation, LGBTIQ communities campaigned for and won equal love. Social movements have shifted public opinion and won reforms that were previously thought impossible. Change doesn't come overnight and with each step forward there are more steps to take – but social movements have a track record of making the world a better place.
So rather than just trying to take on one small piece of the climate problem by ourselves, The Sunrise Project aims to scale social movements, by supporting diverse networks of organisations to work together to have a bigger impact than we, or they, could achieve on our own. We think of it as cultivating an 'ecosystem' of actors generating social change.
We have developed a unique model for making a difference that sits at the boundary of philanthropy and social movements. Essentially, we do three things:
Research and analysis to develop evidence-based strategies to achieve our mission;
Work with funders, foundations and philanthropists to align resources and re-grant funds to other organisations;
Convene, connect and support collaborations to cut greenhouse pollution and drive the transition to clean energy.
The climate crisis is a complex and multi-dimensional challenge, which is why we take a system-wide view of the issues we work on and encourage and support collaboration between unlikely networks of stakeholders and change makers – including government regulators, large NGOs, small community groups, local communities impacted by fossil fuel expansion or decline, academics, faith groups, investors, analysts, First Nations communities, health professionals, farmers, scientists, politicians, lawyers, economists, students – each of which is focussed on their own part of the puzzle.
Shifting Australia beyond coal and gas;
Shifting the global financial system from fossil fuels to clean energy;
Protecting Australian ecosystems.
All of our work is in service of our charitable objectives which are to:
Protect, preserve and enhance the natural environment;
Protect the natural environment from pollution and over exploitation;
Support and empower individuals, communities, governments and industry to make changes required to prevent dangerous climate change;
Facilitate public education about, and promote the transition to, a clean energy economy; and
Educate, empower and support communities to protect natural assets and promote the sustainable and equitable use of natural resources in their local areas.
Our values
Prioritise relationships
We understand that the quality of our relationships determines the effectiveness of our actions. We actively nurture honest, healthy relationships of mutual respect in our team and with our movement and funding partners.
C'mon it's 2021
We relentlessly ask: 'what is required to solve the climate crisis?'We push ourselves to imagine and implement the scale of action required. We move quickly and are willing to risk failing (fast) in pursuit of large-scale systemic change.
Make the road by walking
It is a long road to climate justice but we are committed to doing the work we can today so we are closer tomorrow. We challenge structural inequality and strive to bring about justice in our programs, the movements we are a part of, and our own organisation.
It's not about us
We're here to play our part in scaling social movements that can change the world. We prioritise enabling others to do their best work rather than trying to do it ourselves. We understand how much can be achieved if you don't need to take credit for it and we generously celebrate the work of others.
Annual Reports
For more on our work, see The Sunrise Project's Annual Reports.
ARVE Error: Mode: lazyload not available (ARVE Pro not active?), switching to normal mode